Tiktok ban possible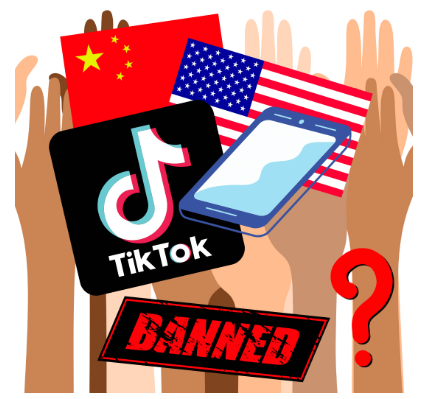 TikTok, the popular video app used among all ages, is one of the most popular entertainment apps in the US, ranking number one for most downloads. The short videos posted on the app offer new information, dance ideas, music, humor, and much more, all depending on what you are interested in. TikTok also serves as a marketing website because of its ability to innovate creative ads that might just pop up and grab someone's attention. Despite its popularity, some people are concerned it's a potential threat against our country and the Biden administration, the White House, and senator Josh Hawley are proposing either the owners sell their stakes or the potential ban of the app in the US. 
In March the Biden administration threatened to ban TikTok because of the concern that TikTok may be collecting personal information. According to Hawley on his website he says, "TikTok poses a threat to all Americans who have the app on their devices. It opens the door for the Chinese Communist Party to access Americans' personal information, keystrokes, and location through aggressive data harvesting. Banning it on government devices was a step in the right direction, but now is the time to ban it nationwide to protect the American people." According to him and the administration they have considered this as our best option. 
TikTok, unlike other websites, has third party tracking that, according to Tech The Lead,  " …allows third-party trackers on its platform – so that means that there's no telling where your TikTok data goes. Those third-party trackers can also track your activity even after you close TikTok." 
The main reason people are so concerned about where this data is going is that TikTok is owned by a Chinese company, ByteDance Ltd. People are worried that their personal  information has been stolen or stored and it's said according to Pew Research, "more than twice as many Americans support the U.S. government banning TikTok as oppose it." They also say that more older Americans support the banning rather than younger, and that in general more people are for rather than against it. 
However the ones that oppose are people like Baedri Nichole. CBS News says that she's the founder of a bakery in Columbus Ohio and says that TikTok has helped her so she questions why congress wants to ban the app. 
"'It's taught me how to do e-commerce, how to get into shipping and more than anything," says Nichole. "I also use it to find my next customer. Prior to getting on TikTok, we were struggling even to turn a profit.'" As some don't like the idea, realistically it's fair because they can get hurt from it. 
If the ban were to go into effect, other apps might take its place. One such app, quite similar to TikTok itself, is Triller. 
According to We've got this covered, "Launched in 2015 as a video editing app, Triller is probably best placed to usurp TikTok's position if it's banned in the U.S. Triller allows users to create music videos, lip-sync videos and skits, with the opportunity to add background music, too. The way it differentiates itself from competitors like TikTok is its AI tool that automatically stitches video clips together, so users can focus on content instead of editing." 
TikTok and some other popular social networking sites use what's called a closed-garden system. This means that creators only gain about 1 percent of their money, while Triller uses an open-garden system which is said to give creators 70 percent of their money which will cause users to sway that way. As it seems to be said that Triller will be easier to use among editing it's also said that Triller will grab influencers attention because of its ability to put light back on to the potentially lost from TikTok. 
As Montana has become the first state to approve a bill that would ban TikTok over the possibility that the Chinese government could request Americans' data from the wildly popular video-streaming app." The ban of the app in Montana is supposed to prohibit downloads of the app and or charge for the app if advertised, however this does not go for people who already use the app. As the government does its job to protect, it's truly up to the people who use the app to either decide to stop using it or just delete it.