Netflix's "Beef" is a wildly entertaining series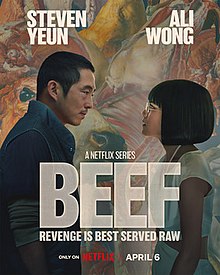 In my experience, I have watched a lot of good TV shows, but it is a rare occasion where I will call a TV show 'memorable.' After watching "BEEF" on Netflix, I feel like 'memorable' is the proper word to describe what I watched. 
The series, which consists of 10 episodes that hover around 30 minutes in length, revolves around a road rage incident between Danny Cho (Steven Yeun) and Amy Lau (Ali Wong) that neither person can let go. They go back-and-forth with attempts at revenge to the point where the acts of revenge are in an attempt to ruin each others' lives.
The storyline itself is an intriguing concept, but as the plot continues, you begin to see deeper into the characters of Amy and Danny and their motivations behind their increasingly insane actions. 
Danny is a construction contractor who lives with his brother, Paul, in a motel in Orange County. They are struggling to find a consistent source of income since their parents, the original owners of the motel, were forced to sell and move back to Korea. On the other hand, Amy owns a house plant company that is very successful and lives with her husband among other wealthy people in Calabasas. Despite the success, Amy is frustrated with her situation, as she feels like she is working her life away. 
These two backgrounds create an interesting dynamic between the two characters, as they use their exchange of revenge to take out their frustrations on life and escape from reality. 
Danny's background is very intriguing, as he continually falls short in his endeavors. He eventually has a religious encounter with an old friend, which leads to him attending church regularly and improving his social life. Everything is trending upwards for him, including the fact that he and his brother build their parents a house so they can move to the United States.
On the other side of the story, Amy's so-called luxurious lifestyle cannot save her from continually being upset. She and her husband, George, hit a rough patch in their marriage, and they have continuous conflicts as the show goes on. These conflicts make it clear that it is a very unhealthy relationship, as both Amy and George become more selfish as the season goes on.  The only positive that Amy has going for her at this point is the fact that she sold her business for $10 million. 
Their lives continue on this trajectory, but the story gets deeper as Amy and Danny get involved with members of each other's family. At this point in the story, a lot of the actions become less predictable. Danny's parents' house gets burned down, with Danny initially believing that it was Amy, but it was actually a construction error by himself while building the house. More tense moments like that occur as the season winds down, with a fair share of wild twists.
That's not the entirety of the show, but I do not want to spoil it further. Overall, A24 studios does a great job of keeping the viewer on the edge of their seat, while continually building on the storyline. In addition to that, the cinematography is great. Several of the shots, especially in the 10th and final episode, are beautiful. All in all, "BEEF" is an exceptional series. It has everything you want from an intriguing storyline, to incredible acting and cinematography. If you haven't, I would recommend taking a day or two to binge-watch.