23 with '23: Angel Church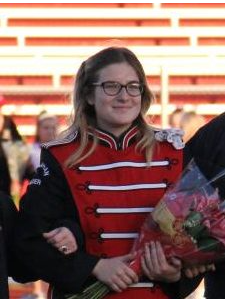 Angel Church is a senior at Jonathan Alder High School. She is an active member of her church youth group and symphonic choir. Church is also a counselor at Camp Bethel in Clayhole Kentucky. We interviewed Angel as part of our 23 with '23 series to spotlight 23 different members of the class of 2023.
Q: What's one thing people don't know about you?
A:  My oldest sibling is 42.
Q: What's your wake-up ritual?
A:  I get up, wake my little sister up, get a shower, wash my face, get dressed, brush my hair and teeth, get my backpack ready, and drive to school.
Q: What's your go to bed ritual? 
A: Get home from work, change into some comfy clothes, brush my teeth and hair, and fall asleep watching a movie. 
Q: What's your favorite time of day and why?
A: My favorite time of day is about 5 in the morning when the sun is just starting to come up. It's just so pretty and peaceful. 
Q: If you could switch lives with someone for a day, who would it be?
A: Eminem so I could know his thought process. 
Q: Dream country to visit?
A: France. 
Q: What's the biggest surprise you've had?
A: Getting Kane Brown tickets for my 16th birthday. 
Q: If your life was a TV show, what song would be in the intro?
A:  "To My Parents" by Anna Clendening. 
Q: What are three things you can't live without?
A: My dog, music and the ability to drive. 
Q: What 3 people living or dead would you like to make dinner for?
A:  Eminem, Robin Williams and my grandmother. 
Q: Window or aisle seat?
A: Window. 
Q: Secret talent?
A: I can sing and play guitar pretty well. 
Q: Most adventurous thing you've done in your life?
A: Drove to Kentucky and lived in a car by myself for a few days. 
Q: How would you define yourself in three words?
A: Daring, adventurous, and caring. 
 Q: What's inspiring you in life right now and why?
A: My dad and his ability to carry on. 
Q: Best piece of advice you've received?
A: There's no such thing as a good life or a bad life, there's just just life and you live it, the good and the bad. 
Q: What would you like to be remembered for?
A: Being a good mechanic. 
Q: Best thing to happen to you today?
A: The doctors bringing my data back. 
Q: Worst thing to happen to you today?
A: My mom not being here. 
Q: If you made a documentary, what would it be about and why?
A: It would be about music and the effects it has in people because it saved me. 
Q: Last piece of content you consumed that made you cry?
A: The movie "Odd Thomas." 
Q: Song you can listen to on repeat?
A:  "E" by Matt Mason. 
Q: On a scale of 1-10, how excited are you about life right now?
A: 8