Farewell to In School Activities
In recent years, students performed their musicals and plays one morning during show week for peers to view for free or for a discounted price. Collegiate sport signings also took place during scholastic hours for any and all who wished to support their classmates.
At the start of the 2018-2019 school year, certain non-scholastic activities such as collegiate athletic signings and the theatrical performances were disbanded. The end to this Jonathan Alder tradition has brought forth mixed emotions from staff and students.:
Corinne Parker (Class of 2019)
"I was actually pretty bummed because I wanted to share [my signing] with my friends and stuff and a lot of them have after school activities so they couldn't come…it made it much less exciting because they couldn't share it with me. The teachers also had conferences so they couldn't come."
Jordan Leeka (Class of 2019)
"I don't like it at all. I don't like how it's mandatory for us to sit through a 90 minute NHS ceremony, but we can't sit down for 10 minutes for signings."
Garrett Underhill (Class of 2019)
"I think we should do the performing arts during the school because that gives the kids an opportunity to see what the actors do and what they work so hard on. I think it's smart to have [signings] after so the family can come instead of work during the school day but then again I think it is stupid because some of the friends from school can't come because they have activities or they ride the bus or something."
Bailey Baird (Class of 2019)
"Honestly, I don't think it's fair that we don't get to see those things anymore. I know that some people don't like watching it, or it takes up too much class time, but everyone works incredibly hard and is so passionate about what they are doing, and then they don't even get to share their accomplishments and performances with others. Personally, I loved seeing all of the concerts, musicals, and signings because we were able to show support to our classmates who put in the time and dedication for doing something they love."
Kayla Straley (Class of 2019)
"All these people are putting in this hard work for all this stuff and they're not getting recognition for any of it."
Sydney Winslow (Class of 2019)
"It makes me sad that we don't have in school performances because those are usually our best crowds because there is a lot of energy and you get to show people what we have been working so hard for. And it's the last hoorah before it's over. I've heard from people that would never go see it voluntarily, like football players, watch the in school performance and they love it!"
Nehemiah Haines (Class of 2019)
"I feel like there should always be in school performances because we work so hard and no one gets to see it. People around here can't really pay for it and this is a way people can see it for cheap! We always need to support the arts. There are so many football games in a year, but there are only so few musicals. Some people around here are never going to see a real broadway show, whether that's because of money or interest, this is an opportunity for them to see something they wouldn't otherwise have the opportunity."
Matthew Dickman (Class of 2020)
"I feel pretty relieved because this year, specifically the fall…or I guess winter play was pretty stressful and a lot of work. I did have a great time with it and it was a lot of fun and I'll do it again next year, but as of now I'm glad it is over. And I was kind of glad it was over and I could just spend the rest of the year focusing on academics."
Selina Jones (Class of 2020)
"I feel like it shows the inequality between sports and the music program and I think it's unfair to the students in the music program that work tirelessly that they don't get to showcase their performance(s) to their student body."
Connor Morgan (Class of 2020)
"I wish signings were during school because I would want everyone to be there and I would give them cake and have a party in the gym!"
Madison Ice (Class of 2021)
"I think it's sad because everyone puts a ton of time into the four years you are here and being recognized by your peers, that's important."
Colin Kimberly (Class of 2021)
"It's smart because it's not interrupting any classes, but students will not get as much support as they would have [signings or theatrical performances] during school."
Mason Farmwald (Class of 2021)
"While I do understand and appreciate the importance of school, high school is also meant to build not just someone's knowledge, but also their self image and themselves as a person. By not having anymore non-academic in-school events, it kind of unintentionally devalues what the students, including myself, have made and produced."
Eliza Watkins (Class of 2021)
"Having these events throughout the school year was a very positive and supportive experience for those involved and for those who simply watched. They allowed for a much needed break from the stressful school day. I would definitely support them being brought back."
Abigail Watkins (Class of 2021)
"I think our school is really backing down on student support for extracurricular activities. I understand that our classroom time is important, but I think we should continue to encourage students to participate in activities as we have in previous years by giving them a little bit of our time during the school day."
Ellyse Tillyer (Class of 2022)
"I really don't like it. I've always wanted to be apart of the traditions that come with the school show like watching the sun rise and it makes me mad that I cannot be apart of that."
Mary Ferrito (Class of 2022)
"I think we should have [signings and theatrical performances] during school. Because I think the students should be forced to support other students."
Colin McDaniel (Class of 2022)
"I don't really mind because I wouldn't take part in them but I'm sure it really upsets some people."
Dominic Dellapina (Class of 2022)
"I don't like it because I kind of feel like people should see the work others have done."
Below are opinions from interviewed staff members who wish to remain anonymous:
"

I have mixed feelings about it. I think the signings are a good thing, I would prefer them to be later in the evening so more people could come and the parents would be able to come much easier. The in school performance I don't have a problem with, I think it's a good thing. Because with basketball games there are lots of opportunities to watch but with a musical or a play there's only a small window. Musicals and plays expose some kids to other types of entertainment they normally wouldn't experience. The problem with them, is that students have their parents sign them out."

"We have 20% of the student body sign out during the day when we have any events of the sort."

"I can see why [in school performances] were cancelled. It does pick up some time during the school day…it really messes up classes for that day. A lot of the time we don't get to, just in schools in general, display art or the culture of the school. It is kind of a part of the tradition and I hope the preview keeps some of the tradition. I hope that our student body will still support the musical even though we are not giving them an in school performance."

"I feel that the performances given by our students are educational and should be attended whereas signings, faculty volleyball games, etc are not really educational at all."

"I'm a big supporter of the arts and I miss the fact that the fall play and spring musical are no longer shown during the school day."

"I do feel the cultural events are needed because many students here don't get enough culture. But I don't think sport type events are needed. Those could be done just as well after school. Why don't we have individual signings for people signing for scholarships?"

"Recognizing students is obviously a good thing. I think we should do only one sport signing session per season but I wish they were during the school day still. I recognize the signings during the school day got out of hand for a while but limiting to one in the fall and one in the spring would be cool. I think there is a fine balance."
Principal Michael Aurin said, "It is nothing to do with not valuing those students it ends up being a major disruption to the day where kids either don't come for the in school performance. I personally value all the time and effort and work our students put in. Just because logistical reasons are in the way doesn't change my value for the programs. Everything the kids do outside of the school day is valued. I love band kids as much as I love the football players as much as I love musical or play kids as much as I love baseball kids. All of those are good outlets for our students. I understand why people disagree with the decision but we're trying to limit disruptions as much as we can. It isn't something that just happened this year, it's been forming over the last few years. In the long run it is going to happen anyways."
Some argue "if signings and theatrical performances have been disbanded, why haven't the yearbook volleyball game and NHS ceremony or pep rallies?" Mr. Aurin explained that that change may be near. Conversations were held with each advisor concerning each in school event.
For now, there will be one final athletic signing on April 22nd at 3:00pm in the auditeria open to all who wish to support their peers!
About the Writer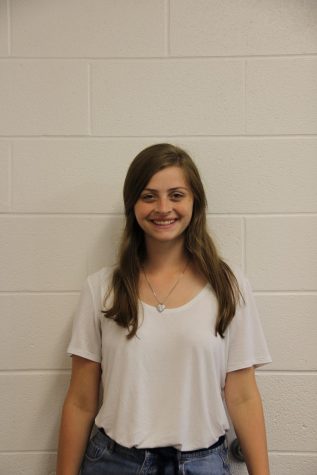 Mary Kate Hipp, Editor in Chief
Mary Kate Hipp is a Senior at Jonathan Alder High School. This is her first year on The Pioneer Press. She plays on the Varsity Girls Tennis Team and hopes...