23 with '23: Monica Santiago
Monica Santiago is a senior at Jonathan Alder High school and is a member of the Spanish Club. We interviewed Monica as part of our 23 with '23 series to spotlight 23 different members of the class of 2023.
Q: What's one thing people don't know about you?
A: I like working out.
Q: What's your wakeup ritual?
A: Waking up to my alarm, that's pretty much it. 
Q: What's your go to bed ritual? 
A: Listening to music. 
Q: What's your favorite time of day?
A: Late afternoon.
Q: If you could switch lives with someone for a day, who would it be?
A: My dog.
Q: Dream country to visit?
A: Mexico.
Q: What's the biggest surprise you've had?
A: Working at Chipotle. 
Q: If your life was a TV show, what song would be in the intro?
A: A Bad Bunny song.
Q: What are three things you can't live without?
A: My family, my friends, my boyfriend. 
Q: What 3 people living or dead would you like to make dinner for?
A: My boyfriend, and my two sisters. 
Q: Window or aisle seat?
A: Window seat.
Q: Secret talent?
A:  I can move my ears back. 
Q: Most adventurous thing you've done in your life?
A: Walking around downtown past midnight.
Q: How would you define yourself in three words?
A: Quiet, overthinker, kind. 
Q: What's inspiring you in life right now and why?
A: Just waiting until graduation. 
Q: Best piece of advice you've received?
A: It'll all be okay. 
Q: What would you like to be remembered for?
A: Just being there as much as I can. 
Q: Best thing to happen to you today?
A:  My oatmeal in the morning. 
Q: Worst thing to happen to you today?
A: Waking up a little late. 
Q: If you made a documentary, what would it be about and why?
A: My life so far in 2023. 
Q: Last piece of content you consumed that made you cry?
A: I think a movie about a dog dying. 
Q: Song you can listen to on repeat?
A: Plenty of Mexican music.  
Q: On a scale of 1-10, how excited are you about life right now?
A: I'd say about 8. 
Leave a Comment
About the Contributor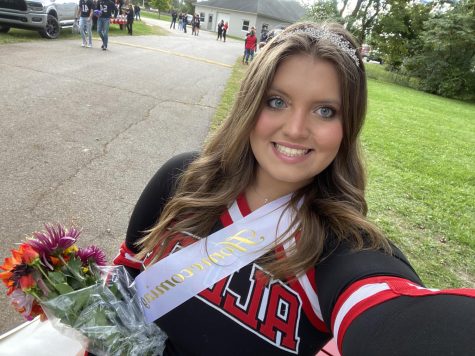 Maggie Storts, Staff Writer, Editor
Maggie is a senior at JAHS and this is her second year as a journalist. She is a Varsity cheerleader and participates in Quick Recall, French club, Drama...