Cross Country Hopes to Make a Big "Run" This Season

The idea of "family" is the driving force that holds the Jonathan Alder Cross Country team together. Coming off a strong season last year, the Pioneers strive for another successful season. Last year, the boys cross country team qualified as a team for states for the second year in a row, where the girls qualified for the first time ever in school history. 
"Expectations definitely have not changed," said Coach Creps. "No matter what, we just want to get better and give our best effort. By doing that, championships in the league and district will happen. And a goal we always set is to get to state." 
Because cross country is tough, it makes these people even tougher. Junior Maddie Davis compared the team to a family: "you see the best and worst in each other." This team bonds and connects in a different way than other teams and sports–the team sees the grit, passion and failure from each other. Teammate to teammate, they hold each other accountable, which helps getting through "mental blocks." 
"Running has hardships, and getting through mental blocks is for sure the most challenging part," said Davis. Cross Country is a mental sport more than physical, which is hard for people to believe but it's true. Not only are you in a competition with others, but with yourself. Davis gets over the mental blocks in competition by "finding joy in other things that aren't result based." 
The Pioneers ran at Dublin Jerome Highschool this past Saturday in a night race. This course is lined with glow sticks, rope lights and many flashlights. The JA team wore a paint that appears vibrant when flash is shown on it. As the Pioneers lined the starting line they glowed and prepared to conquer the goals they had set. Following the race, the girls team finished 5th out of 21 teams. Juniors Morgan Hicks and Maddie Davis finishing 3rd and 5th individually. The boys team also placed 6th out of 24 teams, and Senior Luke Malone finished 4th individually. 
The next meet is September 28th at Pickerington North.
About the Writer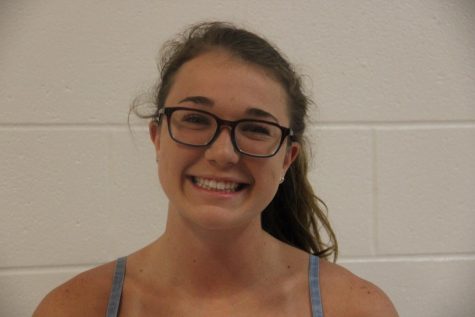 Emma Shepherd, Lead Designer/Sports Reporter
Emma Shepherd is a Junior at Jonathan Alder High School, and this is her first year on the newspaper staff. She plays on the Varsity volleyball and basketball...