The Varsity Girls Soccer Team Rolls into the Post Season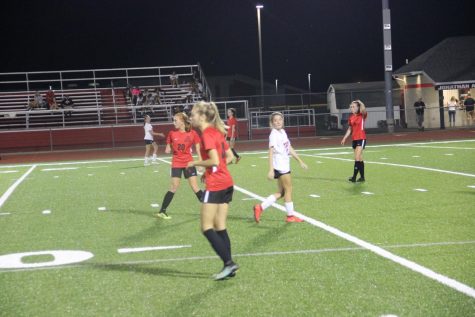 The varsity girls soccer team led themselves to the end of the regular season with a 12-1-2 record. Now that they are officially in the playoffs, As the girls head into the playoffs, they have mixed feelings about their season, but they are excited for their first playoff game.
Despite the team's recent losses, junior Ashley Warren is still happy with how the season went. "We were undefeated for several weeks, going 12 and 0 for a while, and then we played the top team in our conference, and then we lost which kinda sucked, but we've still been playing good," she says. 
The team lost to both Tecumseh (6-0) and Northwestern (2-1), and, at their most recent game, they tied Shawnee (1-1).
While Warren was pleased with the overall season, some members of the team were unhappy with the season's ending. "We lost and tied some important conference games that knocked us out of first, which was very upsetting," sophomore Alex Shaw says. Shaw still agrees that this season has been a great season for the girls though.
Health restrictions were a major concern for fall sports, but the girls were able to power through them. "I definitely think it was a little bit weird, but we got kind of used to it, and I think everyone was just thankful we were able to play, and I think that made it better because everybody kind of realized that we could have gotten our season taken away, so we're just thankful and it made us play harder," Warren says. 
Senior co-captain Madison Ice was enthusiastic about the playoffs being right around the corner. "I'm really excited for the playoffs," Ice says. "We have a lot to prove and we have everything we need to make it far." 
Shaw is also excited for the playoffs. "We were seeded number two in division two, for only the third time in school history," she says. "I'm hoping we can go far this season, and with the player's passion for the game and the love we have for each other, I think it will be very possible."
The team has been through more this season than any other girls soccer team team has been. However, this has not stopped the team from feeling united. "I think this year we've been a lot closer as a team, in the past couple seasons I've played, it's more of a family type dynamic, and even the underclassmen are more included in what we're doing, and I think the team has played better because of that," Warren says.
Ice also says the team does a good job of working together. "This year's team does a really good job of encouraging each other and I think it has really helped with our confidence and getting us pumped up and ready," she says.
The seniors on the soccer team this year have been a big part of the season, according to Shaw. "They are all so amazing and hold our team together. We wanted to make sure even with everything going on that they have the best season possible," she says. "Everything we do on the team is for each other, as a family, and I think that's why we had such a solid season this year."
For information on tickets, visit this website and click the link to purchase tickets.
About the Writer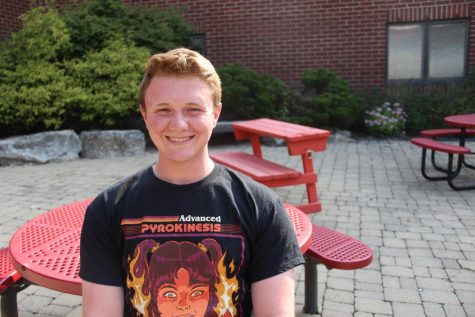 Jackson McCoy, Staff Writer
Jackson McCoy is a sophomore at Jonathan Alder High School, and it is his first year in journalism. If he was a scented candle, he would be the scented...