Art Club Makes Space for Creativity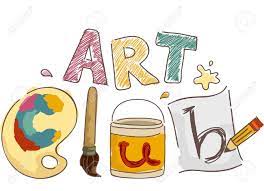 The JAHS Art Club is a club that has been going on for at least 10 years, and meets every Thursday from 3 to 4 p.m. The goal of Art Club is to provide a space for students to be creative and to interact with other students. 
Junior Kylee Phillips says Art Club is different from normal art class because,  "…the environment is more laid back and there aren't any expectations or due dates. We pretty much get to pick what we want to, and not everyone is doing the same thing. We also get to do things that art classes couldn't do because Mrs. Moore allows us to use materials that she may not have enough of to use in a full class." 
Sophomore Maddy Headings appreciates that more laid back environment. "Mrs. Moore is in charge but she gives us creative freedom to do pretty much anything we want," she says.
In the past, the Art Club has done many projects. Members have created school murals, mosaics, and have done stained glass. They've even worked on furniture, conducted art shows, and created buttons. Their most recent projects were painting a mug/bowl, and painting on a wooden board. With all that has been done already,  their future projects are not set in stone. Sophomore Norah O'Connor, says,"…there's a rough outline, but you go at your own pace and pick from a couple different project ideas."
Another benefit of Art Club is that it gives students an opportunity to choose what they want to create with the materials available. "If someone doesn't have certain materials to do something they would like to do at home, then art club gives the opportunity for them to be able to do these things," Phillips says. "It gives me an opportunity to see what other people can create. It also gives me dedicated time to do art. I plan on going to college for something art related, and I need to create an art portfolio for this. Art club provides me with a chance to make art that I could possibly use to get into college." 
For the future of this club, Mrs. Moore wants to continue encouraging students to enjoy themselves in creating different types of art. "I enjoy all sorts of art types, and I am always learning new techniques," Mrs. Moore says. "Art gives me something to look forward to every day. I want to share that with my students." 
Headings says that "Art club is something I really look forward to. I love being able to do projects that I get to pick, and complete them with the help of an art teacher."
(Featured picture: Link)
Editor's Note: A previous version referred to Norah O'Connor as a freshman. That is incorrect–she is currently a sophomore at JAHS.