JAHS Choir returns from trip to New York
The Jonathan Alder High School choir department departed for New York City on February 15. They performed twice during the trip, singing thirteen songs at each performance. 
Compared to trips that the choir department has gone on previously, this one stood out to the department as very demanding and very exciting.
"This was probably the most ambitious trip we've ever taken," Nicholas Mayes, JA's choir director, says. "We had two full performances, which is kind of a lot more than what other trips have been before. A lot of the time, when we take these big trips there's one big performance, but we had two big ones."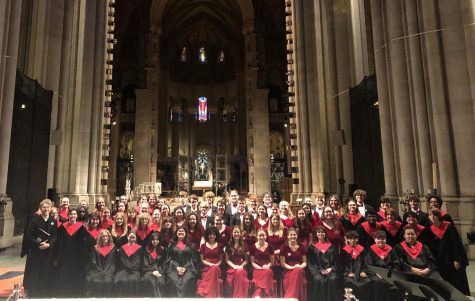 Ahead of the trip, students were both excited and anxious to leave.
"I knew that since we were going to a large city, there was going to be a lot of chaos especially with the chaperone groups," senior and show choir member Madeleine Freyhof says. "But I also knew that it was going to be a lot of fun, and it was all going to be worth it."
In 2020, the choir went to Chicago, Illinois, which was a trip that current seniors remember as being a busy trip. However, on a trip to New York (which has almost 6 million more people than Chicago), they were that much busier.
"My expectations were that I would be really busy, which we were," junior Connor Gluntz says. "Every single day, we left the hotel at 8:00 am and didn't come back until 10:30 pm."
Part of this busy schedule was getting to do a workshop on Broadway, an opportunity that was not available on previous trips. 
"We had a Broadway workshop with a Broadway performer from Hadestown, and that was really cool," Mayes says. "They did choreography and singing, which was different from previous trips."
"The workshop we did was more for Broadway performances and less for choir and acapella, but it was very fun," Freyhof says. "It was one of my favorite things we did on the trip for sure."
The choirs all performed twice, both at two very historic stops in New York. 
"We sang at Saint Paul the Apostle, which was the first [performance]. The second one was Saint John the Divine, which is one of the biggest churches in America," Gluntz says.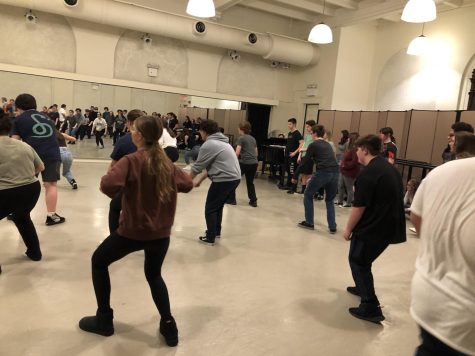 They performed a wide number of songs at these places, bringing the sounds of Jonathan Alder's choir to the Big Apple.
"We sang too many songs to count," Freyhof says. "We sang our 'Alma Mater,' 'How Can I Keep From Singing,' 'Bin Dite,' it's like a mix between Indian Raga scales and traditional latin, and some other songs."
"Our performances went really well…overall I would say we sounded very beautiful. All the choirs did well," Freyhof continues.
Students also got to see some old friends from across the pond."The favorite part for me was meeting up with Yannik, he came to New York to visit the choir," Gluntz says. "He lived with me last year, so it was good to see him again."
For others, more traditional New York destinations were the favorite. "I thought that my favorite part of the trip was going to be Times Square, and it ended up being the exact opposite. I did not like Times Square," Freyhof says. "My actual favorite part was going to the Ferry, and seeing Lady Liberty and the 9/11 memorial."
For Mayes, seeing students experience the city was his favorite part. "When we were on top of the Rockefeller Center, and just looking at people's eyes and seeing [them thinking] 'Oh my gosh, I'm on top of the world,'" he says. "That's my favorite part of the trip. When we go and see a show like 'Hadestown,' seeing the reaction of people. I love seeing people experiencing things."