23 with '23: Logan Beach
Logan Beach is a senior at Jonathan Alder High School. Beach participates in marching band, and basketball. We interviewed Logan as part of our 23 with '23 series to spotlight 23 different members of the class of 2023.
Q: What's one thing people don't know about you?
A: I am currently signed with a modeling agency.
Q: What's your wakeup ritual?
A: Wakeup 6:00 am, sleep in 30 minutes, then get ready, and leave at 7:10.
Q: What's your go to bed ritual?
A: I lay in bed for an hour, then take a shower, then finish up on homework until I fall asleep.
Q: What's your favorite time of day?
A: Afternoon.
Q: If you could switch lives with someone for a day who would it be?
A: I would switch lives with Beyoncé
Q: Dream country to visit?
A: Italy.
Q: What's the biggest surprise you've had?
A: When I was three I found out I had a hole in my heart when I was being developed and I almost didn't survive.
Q: If your life was a TV show, what song would be in the intro?
A: "Sweetest Pie" by Megan Thee Stallion and Dua Lipa.
Q: What are three things you can't live without?
A: My phone, my computer, and my family.
Q: What 3 people living or dead would you like to make dinner for?
A: Gilbert Gottfried, George Washington, and the queen of England.
Q: Window or aisle seat?
A: Window.
Q: Secret talent?
A: I am really good at not blinking for a long time.
Q: Most adventurous thing you've done in your life?
A: I almost ventured out in the middle of Lake Erie, but I had to turn back.
Q: How would you define yourself in three words?
A: Tall, curious, indecisive.
Q: What's inspiring you in life right now?
A: The dread of ending up homeless, so I do better in school, it inspires me to do my work.
Q: Best piece of advice you've received?
A: Save your money for the future.
Q: What would you like to be remembered for?
A: Being really good with dogs.
Q: Best thing to happen to you today?
A: There was a person doing construction work in my driveway and I didn't have to ask them to get out of the driveway without saying anything.
Q: Worst thing to happen to you today?
A: The Wifi was being really crappy.
Q: If you made a documentary, what would it be about?
A: The things in the Appalachian Mountains.
Q: Last piece of content you consumed that made you cry?
A: It was of a person taking their ill dog to the beach one last time.
Q: Song you can listen to on repeat?
A: "All I Know" by Whitney Houston.
Q: On a scale of 1-10, how excited are you about life right now?
A: 8
Leave a Comment
About the Contributor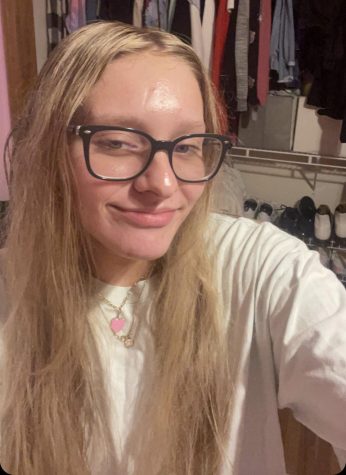 Macie Lane, Staff Writer
Sophomore Macie Lane is in her first year here in journalism. Macie can be described by her friends and family as spunky, clumsy, and annoying. Macie participates...