IT: Chapter Two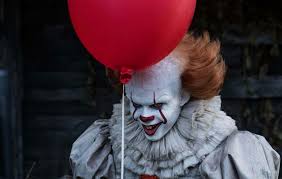 The famous red lipstick and white face paint is what we view as a clown; they are known worldwide as things that entertain little children and scare adults. Based on an old Stephen King film called IT comes a revamped sequel.
As a follow-up  to the First, recent IT movie, they have decided to make a "chapter two."
The preview shows old and new friends rejoicing and gathering back the "Loser club" and the famous IT clown, played by Bill Skarsgard.
In the Chapter two trailer they reveal Beverly, a former character from the first movie, going into her father's old house, when she is greeted by an old lady. The trailer continues on to show that children are still going missing and IT still haunts their town and she, along with the Loser club, ought to do something about it.
The first chapter of the movie was a big hit when released in 2017. When the Chapter one of this series came out $27,302,340,419 worth of tickets were bought according The Numbers website
With many people very excited and nervously waiting for this expected release in 2019, all the fans look forward to sit in the theatre and prepare for the second chapter to one of the most hit movies of the past.
Trailer of IT: Chapter Two– https://www.youtube.com/watch?v=zqUopiAYdRg
Related articles:
https://thepioneerpress.org/3617/life-style/toy-story-4-teasers-released/
https://thepioneerpress.org/3785/artsandentertainment/aladdin-returns-to-the-big-screen/