Alder Students start Buff Duck Racing Company
Riding dirt bikes and four-wheelers seems like just a hobby, but to Junior Riley Kent, it is more than a hobby–he is mostly known for his love of dirt bikes and traveling. So when he announced he was starting Buff Duck Racing, his friends weren't surprised. Instead, many were actually quite excited to join the group. Kent started with a YouTube channel that shows off the group's tricks, how they take care of their bikes, and footage from races. The group's Instagram (@buffduckracing) promotes their new videos and shows off pictures of the group; Instagram is also the platform for their recent merchandise sales.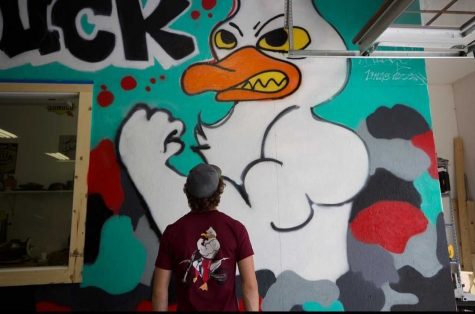 Kent says, "I got the idea to start it at the end of November last year (2019). The name came from a drawing on my school folder…I just wanted a place for me and a few of my friends to share the dumb things we do. Since then I started a YouTube channel towards the end of January." 
The main focus of Buff Duck at the moment is getting their name out in order to meet new people and just overall have a good time. While Kent has the idea to start a team, at the moment it's still in the air, and gaining more people will give him that team. 
The Group. 
The group consists of a fluctuating group of 6-8 people who get together, make content for the social media platforms, and ride dirtbikes. 
Sophomore Jaxen Phelps has been with Buff Duck since the beginning, and has competed in races such as Route 62 and Chillitown MX, along with four different fair races. He joined the group the day Kent came up with the idea.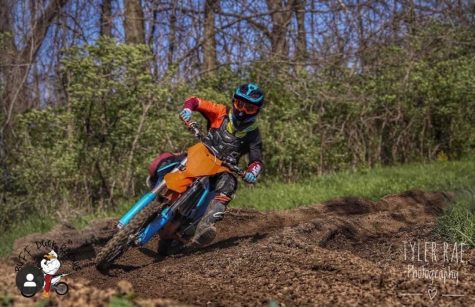 Phelps has some goals of his own and some for Buff Duck. "I want to focus more on riding and Buff Duck winning races!" he says. "Trying to build a brand and make content on YouTube is another thing I want Buff Duck to succeed in." 
Phelps rides only dirt bikes, and he's spent a lot of time and energy working on them. "I've added an aftermarket clutch, brake levers, aftermarket wheels, grips and a whole lot of stuff," he says. Fixing bikes, adding different mods and even overall upgrading bikes is something that takes time and a lot of mechanical knowledge. Phelps is a student at Tolles in the automotive program and has been working on his own bikes for a long time. 
Youtube Channel. 
Buff Duck has been making their name known–their YouTube channel, Buff Duck Racing, has roughly 1.5k subscribers. They post videos of riding trails around Ohio, going to races and performing tricks on their bikes. Since starting Buff Duck has been working on growing their influence, over the past couple of months they have been busy with their YouTube channel, making weekly content there and posting on Instagram every other day. 
Buff Duck isn't just about riding around. On the channel you can also see videos of how to change the oil in bikes or four-wheelers, rebuilding and fixing bikes and four-wheelers, and their recent buys. Buff Duck wants people to be able to learn from them, which is another way to get their name out.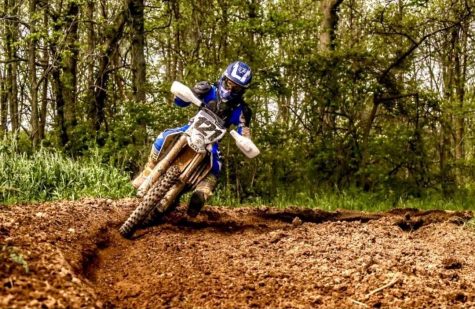 Kent comes up with the YouTube ideas either from the races they have been to or an issue that might have come up with a bike. Many videos are about maintenance that might need to be done to a bike, but some are even meeting up with new people and seeing what they can do on their equipment. "The coolest thing I've gotten to do is meet people I would have never talked to if it weren't for social media," says Kent. 
Plans for the Future.
While Kent is still trying to build his dream team with his friends, Buff Duck is already making an impact in the community. 
Just recently, Buff Duck created a Tik-Tok where they showcase how to take care of bikes in short and simple ways. The Tik-Tok videos show off their friends riding, and they even have one video of a guy riding a BMX bike, since Kent doesn't want to make Buff Duck all about dirt bikes. Instead, he wants to create a platform where people can race and show off their riding abilities. On their Tik-Tok account, buffduckracing, they have reached 5.5k followers and 61.7k likes and their Instagram, buffduckracing, has 950 followers. 
Kent has just started to make something that once seemed like a dream into a reality. "My plans to grow Buff Duck Racing is to keep posting content on all platforms and grow a bigger following," he says. "We also just started selling t-shirts with some cool designs. My goal is to get the name out." He went on to say, "One extra thing to share, is that I want to make Buff Duck Racing a team. I do all of the filming, editing, and coming up with the ideas on my own. I'm trying to work with my friends and make them want to be a part of the stuff too."