JAM Fest 2021 A Success
The 3rd annual JAM Fest occurred Saturday, February 13th. The event kicked off with Jonathan Alder's Show Choir, then proceeded to the other participants. Excluding the Show Choir and Symphonic Choir, the participants were being judged on their overall performance, and had the opportunity to win prizes.
Following the Show Choir, the second act was Junior Ellyse Tillyer, who sang 'Green' by Cavetown. Being her second second year of JAM Fest, she tried something new and decided she was going to play solo in the event.
"This year it was a lot harder for me [to pick a song], because I was deciding I was going to play by myself, so I went like song after song trying to make a decision," Tillyer says.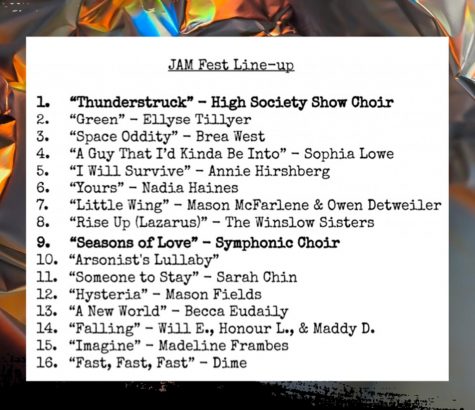 In the end, she chose "Green," saying that it resonated with her. She also said that the song was introduced to her by "someone [she] used to be really close to," and that the song was "kind of going out to them."
This being the first year that JAM Fest was online instead of in person, the participants were left with looking at only their fellow contestants, with less of an audience than they were used to. 
"I don't know, it's kind of a mix of feelings," says Tillyer. "It's easier to just be a lot less nervous but I also like the reaction of a happy crowd so like, pros and cons, I guess." 
Junior Brea West, who was the third act, sang "Space Oddity" by the famous singer David Bowie. She said that she had always felt 'different from the crowd,' leaving her to pick the song by Bowie.
"I wanted to pick a song by someone who is kind of like that, I guess, and that's David Bowie. It's his whole personality," West says.
Freshman Sarah Chin, who has watched the event before, participated in JAM Fest for the first time Saturday night. Chin was the 11th act of the night, and sang 'Someone to Stay' by Vancouver Sleep Clinic.
"I chose 'Someone to Stay' because it is really close to my heart. I have gone through a lot of stuff and I just feel like it's a message people really need to hear," Chin says. "At first glance it's kind of a sad song, but if you actually listen to it, it's like you've been through the ringer but you have someone to stay now. Everybody needs someone like that."
Senior Honour Lackey won first place, 8th grader Sophia Lowe with second place, and the runner up was the 'Little Wing' combo of Junior Mason McFarlene and Junior Owen Detweiler.
There were also the 'Spotlight Awards,' new to JAM Fest this year. Lackey won best singer, "Most Musical" was given to the "Little Wing" combo, the band Dime got best instrumental, and Scott Jones (who was announced as "'Mr. Bojangles") won best costume. 
JAM Fest was a way to raise money for the choral program, as well as the musical My Fair Lady, scheduled in March. They raised $3,670, $670 more than their goal.
"We have really come a long way, a long, long way to get to where we are tonight," Choral Director Nick Mayes said after the Show Choir performed. "This is a lot of firsts, this is the first performance that the choral program has put on all year and it's really taken a lot from our students and wonderful staff."
About the Writer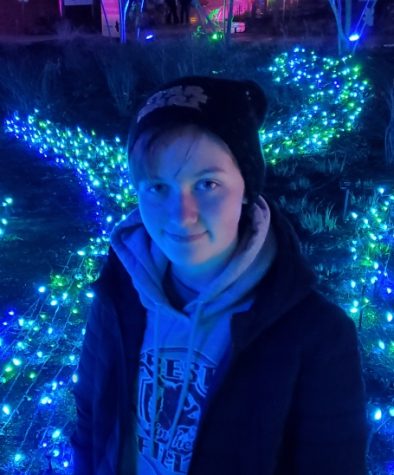 Sophie Caouette, Staff Writer
Sophie Caouette is a sophomore at JAHS and this is her second year at The Pioneer Press. An avid doodler and clarinet player, she also enjoys video games...