Volleyball Wins CBC Championship and Hopes for Long Post Season
Hang on for a minute...we're trying to find some more stories you might like.
Service. Toughness. Structure. Are the three words that are the heart and soul of Jonathan Alder volleyball. With the reputation of always being competitive and going far into the tournament, this group takes leaps in hope of another successful season. Last year, the varsity team lost to Bishop Hartley in the Regional Semi Final game, they also lost seven seniors, five of which were starters. How could this program possibly stay successful and keep on producing victories? The answer: Joe Ross, the coach of this eccentric group of girls. He came into this season and quickly recognized the talent and dedication of the players he had in front of him. 
"Jonathan Alder volleyball is family. We play for our team, our school and community. Not for ourselves. Coming together in the little things is how we make big things happen," is how Junior Kennady Izzard defines Jonathan Alder volleyball. 
The quote, "Under pressure, you don't rise to the occasion, you sink to the level of your training" from a Navy Seal was introduced to the team at the beginning of the season. The team has embraced this quote because it is using a negative word (sink) in a positive way to motivate. Many people believe that players rely mostly on their training, muscle memory and hard work to their goal of success. However, Senior Mckenzie Wright disagrees, "In the game of volleyball, yes you have to have grit and the urgency to win with your skill. But great teams are the ones that win with skill, heart and have the momentum and energy."
"This team is the definition of energy, hype and inspiring," said Wright. After every point scored you will find the Pioneers with their arms in the air, their feet stomping, hands clapping and their voices yelling. Not only does this excitement feed into that team's momentum, but it also "intimidates the other team," says Izzard. 
This season, the Lady Pioneers are undefeated in their conference and only have one out-of-conference loss, to Pickerington North: "I wish we could have another shot at Pick North. We only played them best two out of three, instead of three of five. They beat us in three, so I really think we could take them in a normal match." said Izzard. 
For the past three years, the Pioneers have met up with the Highland (Marango) Fighting Scots in the District final game and have been successful in two of the three years, making them a major rival for the volleyball team. "We meet up with them every year, and every year it is a big game because it defines the best of the best in the Central District," Izzard said.
The Lady Pioneers just conquered one of hopefully many championships. They won the Central Buckeye Conference and stayed undefeated in the conference, for the third year in a row. They have also defeated many big Division 1 schools including Dublin Jerome and Scioto, Central Crossing and Hilliard Darby. Big wins like this will give points to the Pioneers in the State ranking, where they are currently ranked fourth in the State of Ohio for Division 2, according to Max Preps. 
The second half of the season is coming to a quick close, but that just means that post-season is on the horizon. The Lady Pioneers hope to strive one game at a time, to make their school, community and coaches proud, as well as prove to themselves what they are capable of. Their next game is home on Tuesday, October 7th where they will host Bellefontaine and, it also is senior night. Seniors Mckenzie Wright and Kyli Ricker will be walking at 6:30 and the game will follow. 
About the Writer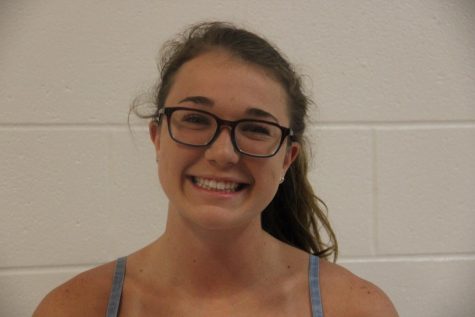 Emma Shepherd, Lead Designer/Sports Reporter
Emma Shepherd is a Junior at Jonathan Alder High School, and this is her first year on the newspaper staff. She plays on the Varsity volleyball and basketball...