Q&A With Reggan Gray
Reggan Gray is a Junior at Jonathan Alder. She runs cross country and track and is also a member of the girls basketball team, which is currently in season. In our conversation, Reggan shared some of her most recent and favorite things and reflected on her basketball season this year. 
Q: How's your day going?
A: My day is going good! 
Q: What is your favorite place that you've ever traveled?
A: My favorite place I've ever traveled is Virginia Beach! Virginia Beach is one of my favorite places because it is a very quiet beach! There are a lot of really cool local restaurants and coffee shops, and most of the people there are locals! I have a lot of really great memories there, too! 
Q:  What's the last song you listened to or movie you watched?
A: The last song I listened to was "Good Days" by SZA. It's now one of my favorite songs, the music is really calming and inspiring. It definitely will be on repeat all throughout this semester because it reminds me to find ways to make everyday a good day!
Q: If money wasn't an issue, what would you want to do professionally?
A: I would travel the world and document it in a way that could give back to the earth. I feel very strongly about giving back to the earth because the way we live right now is destroying it. However, in order to really understand how I can do this in the most effective way possible, I've decided that I need to go see as much of it as I can! I've always had a passion for traveling, and I'm really excited for when I can finally act on that passion! I know that if I am the only one working to give back, that it won't make much of a difference. But my dream is to be able to document the things that I'm learning to inspire others to do the same!
Q:  What are you passionate about?
A: I'm passionate about traveling and having good relationships with the people in my life.
Q:  What are your main goals for your basketball season this year?
A: This year, the main goal for our basketball season is to overcome all the challenges that covid brings and continue to improve and work towards another district title.
Q: What is different about this season than last season?
A: This season, we are a very young varsity team as far as experience. We only have three varsity players that saw the floor returning, and only two returning starters. Also, covid has taken away a lot of our preseason prep for the season, so we have been set back as far as getting to know each other's game. We are getting there though! 
Q: How is your season going so far? 
A: Our season has been decent so far considering the circumstances.
Q: So far, what moment of this season were you most proud of yourself?
A: The moment where I felt most proud was winning our first real game in almost a year! 
Q: What do you think you have improved on this season?
A: Overcoming adversities and keeping a positive attitude.
About the Writer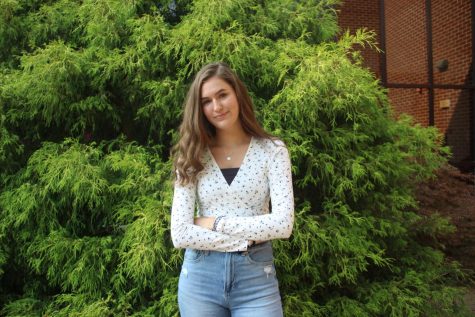 Morgan Liening, Staff Writer
Morgan Liening is a sophomore at Jonathan Alder Highschool. This will be her first year being a part of the Pioneer Press! She enjoys playing for the JAHS...