Everything You Need to Know About Red (Taylor's Version)
In 2019, Big Machine, the previous label Swift was signed to, sold her music to Scooter Braun, a talent manager, and investor. The music bought included Swifts' first six albums: "Taylor Swift", "Fearless", "Speak Now", "Red", "1989", and "Reputation". After finding this out, Swift left Big Machine and wanted a change, for all artists, that they should have the right to own their music. In a letter Swift posted on instagram announcing the release for Fearless (Taylor's Version), she wrote, "artists should own their own work for so many reasons, but the most screamingly obvious one is that the artist is the only one who really *knows* that body of work."  In November 2020, Swift's contract with Big Machine was up, she finally had the right to re-record her albums one through five, and that's what she's doing. 
Now, there were a lot of controversies that had followed Swift around the fact of her re-recording her albums. Rolling Stone had interviewed Allen Kovac, the founder of Better Noise Music, and many others, on their thoughts of Swift re-recording, "'I don't know fans like that,'" Kovac told Rolling Stone. "' If you could show me [one artist for whom] it's worked out well, I'd say it's a great idea and everyone should do it; I just haven't seen any evidence of that.'" 
Boy, do I have some news for him. When "Red (Taylor's version)" was released on No, Swift made history,  becoming the first female artist in history to receive more than 100 million streams on Spotify in a single day. With over 122.9 million streams, "All Too Well (Taylors Version)" is officially the longest Number one hit of all time, at 10 minutes and 13 seconds. There are a lot of accomplishments with this album and more to come for Swift. 
Songs 
"Red (Taylor's Version)" included her popular songs "We Are Never Getting Back Together," "22," "I Knew You Were Trouble," but she also included songs on this version that she had previously given to other artists.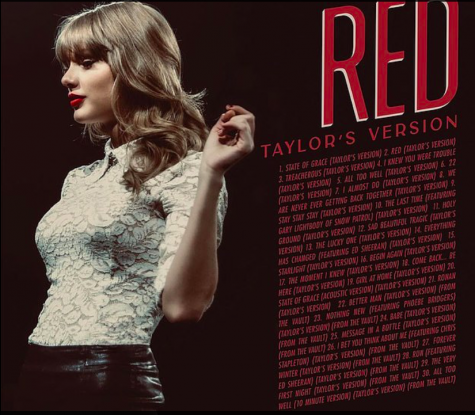 Those songs include "Better Man" and "Babe." "Better Man" was released by Little Big Town in the album "The Breaker " and hit Billboard Top Country back in 2016. "Babe" was released by Sugarland  in 2017 for their album "Bigger." Now with Swift's version, she took the opportunity of putting all the songs meant for the album including those songs she had given to those artists.

Swift also had many other artists come back or be included in this album. One of those being Ed Sheeran who was featured in two songs, "Run" and "Everything Has Changed." Phoebe Bridgers made an appearance as well in the song "Nothing New," a sad melody about things changing, getting older, and losing what you have. Gary Lightbody, like Sherran, came back to do his part on "The Last Time," and Chris Stapleton harmonized with Swift on "I Bet You Think About Me."
When "Red" was in the works, it followed relationships that Swift had during or around that time. Someone who had an impact or inspired Swift while writing was her ex, Jake Gyllenhaal. One song that he had inspired Swift was "All Too Well" in which their relationship lasted from October to December of 2010. 
During that time she was preparing for the "Speak Now" tour. "I showed up for rehearsals and I was just upset," she said to Jimmy Fallon "I started playing the same four chords over and over again… I started ad-libbing what I was going through and what I was feeling, and it kept going and going…the song went on for about 10 to 15 minutes long." Because of how long it was, Swift, unfortunately, had to shorten it down for the 2012 "Red" so it wouldn't be "too long." Swift originally didn't believe that her fans would want to listen to a song that long, which she was proven wrong. 
All Too Well (10-minute version)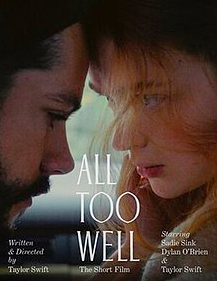 With the opportunity of re-recording "Red," Swift added the 10-minute song to the album. Not just that but she produced a short film to go with the song, starring Sadie Sink and Dylan O'Brien, both fans of Swift. The song follows her short but effective relationship with actor Jake Gyllenhaal. 
 The extended version contributed to many left-out verses that are beautifully written. In the songs, she likes to talk about the
flaws, including how her ex would never like the jokes that she told. "And I was never good at tellin' jokes, but the punch line goes/'I'll get older, but your lovers stay my age,'' Swift tends to bash the age difference between the two and the type that Gyllenhaal tends to go for. Swift, is not the type to plan out and put lyrics in her song like 'did this relationship break you too?' Instead, she writes "And did the twin flame bruise paint you blue?/Just between us, did the love affair maim you too?"
The short film, produced by Swift, follows the relationship around allowing the viewers/listeners to watch the relationship crumble over some time. From O'Brien's character dropping Sink's Character's hand in front of all of his friends, pretending she doesn't exist, watching the first crack in the glass appear. Towards the end of the film, we see Swift playing the older version of Sink, at an opening for her book, telling the story between the two interests. Zooming out of the building you discover "him later on" standing outside, watching her with the very same scarf that was left behind at the beginning of the film. 
In Conclusion
To some, Swift's re-recording may seem "stupid" or "worthless" but to her fans and herself, it means a lot to look back on those years, watching Swift grow as an artist and to watch her get the opportunity to take something back what was stollen from her. I'm personally excited to see what is to come with the other 4 albums and getting to re-experience them all. "Red" was personally one of my favorite albums by Swift and with the new songs introduced on her version made me love the album even more.