Alumni spotlight: Emily Walker
Alder graduate Emily Walker (Class of 2020) is starting her junior softball season at Ohio University. As part of a series with Alder graduates who have continued their sports career up until today, I asked Walker about her softball career. Walker shares a lot about herself and her story, including how believing in herself changed the game for her. 
Q: What made you want to keep playing softball in college?
A: I genuinely love playing softball; it's one of my favorite things to do. I also have a lot of friends that play softball; it's kind of like this big world and community that I'm a part of now. I think I just knew I was good at softball and that I could continue to play at a collegiate level, so when I got the opportunity, I did it. 
Q: How does high school softball compare to college softball?
A: Oh, I mean, it's a big change. In high school softball, you're only playing against people in the state of Ohio and only in whatever division your high school is in, and it's a lot slower in high school. In college, I mean, these girls could be from California or Florida. They have been playing their whole lives to be on this stage, and it's a lot faster and a lot more competitive. 
Q: Did you get offered a scholarship to play softball for OU?
A: Yes, I did. I got a scholarship offer. 
Q: How does playing softball in college affect your college experience?
A: So, this next semester is our season, and I'm going to be missing classes. I have to tell my professors what days I'm going to be missing, so then I have to do a lot more work to stay ahead in class or stay with the class. Sometimes I'll see friends going out or just doing things that look fun, but I'll have like 6 a.m. lifts the next morning, so I just know I can't do that and I have to be responsible. I think that one thing I've learned a lot is how responsible a student-athlete is. 
I can't imagine doing that in college; even in high school, it's hard to balance everything. 
Yeah, I mean, I think I've also learned a lot; we do get a lot of resources to help us not be alone while doing all of these hard things. We have our coaches and we have advisors who help us plan our work schedules; I'm not doing it all by myself. 
Q: What would you say to anyone on the fence about continuing their sports career in college?
A: It's a lot of hard work. I mean, you have to really want to be there and put in the time and effort because you can't just do whatever you want to. There are rules to the team; there are rules to being on the team, and practices can be long, hard, and exhausting. But it's worth it when you want to win and be on a team that wins. I would also say to anyone looking into playing in college that they should ask the team about the coaches, ask how they react to certain things, and find out what their rules on the team are because that is the biggest thing I've learned while being in college: coaches really do matter. 
Q: Were you on the state-qualifying team at Alder?
A: Freshman year we made it to state final fours, and then my sophomore year we made it to state runner up and then my junior year we won states. And then my senior year got cut off because of COVID.  
Q: So you felt like you still had a – I mean it sounds like you had a very solid high school career with softball?
A: Oh, I 100% believe that if we got our 2020 season, we were winning states again. Our team was so good; I loved our team. I have such great memories of that team and those girls. 
Q: Do you have a favorite college memory of softball?
A: So our rival is Miami University, and last season Miami was number one in our conference, and when we played them, we won our series against them, and that was a pretty big deal to be undefeated. We were kind of a scrappy team and we came in and beat them. So I would say that. We had a big celebration after we got back to Athens.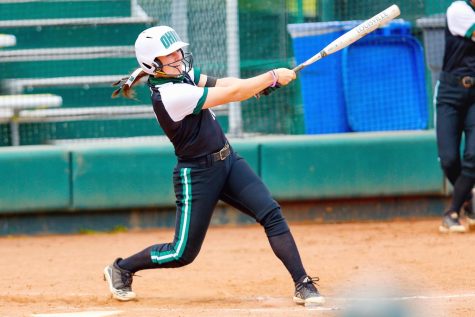 Q: What would you say is your greatest accomplishment in your college career?
A: This is going to sound kind of sappy, I guess, but I would say just believing in myself. That I could play at this level. I'm not going to lie; some people didn't think I could play at this type of level and it was hard for me to believe in myself. I'm just happy that I actually did it and that I could prove to these people that I worked hard and I earned this. 
Q: On a scale of 1-10, one being the worst and ten being the best, how would you rate your college sports experience so far?
A: I would give it… this is being honest… like a seven. I would say what ruined it was during my freshman year when COVID took over everything. We were under so many rules and restrictions that it just felt kind of as if we were in a prison cell. We weren't allowed to talk to people. It was pretty crappy nonetheless, and that wasn't great for any of us. But it's progressively getting better each year, and we just got new coaches, and they're pretty amazing so far. So, a seven.