Headings wins 800m Title
Hang on for a minute...we're trying to find some more stories you might like.
    In its inaugural season, the Jonathan Alder Indoor Track team advanced 10 of its 15 athletes to the OATCCC Indoor State Championship.
    Eyes across the state were on senior Jase Headings. However, unlike most, Headings had to anchor the Boys 4x800m.
    The Boys 4x800m was ranked among the top of the state and was considered one of the favorites to win the event.
    The race was started by sophomores Luke Malone and Gavin Frick, who had the 3200m to look forward to later in the day. Both ran career personal bests.
    However, disaster struck and an unfortunate error sent the team home packing. The team of three sophomores and a senior hope to rebound in the outdoor season.
    Headings ran the 800m next, and all Alder fans in attendance quietly watched Headings chase history.
    The first 650m did not go as planned, and Headings found himself in 10th place with 150m to go. Yet, despite the early obstacles, Headings tracked down Heath senior Chandler Wilhelm and won the race by 20 milliseconds. Headings was crowned State Champion minutes after.
    For the first time in Alder history, a male Alder athlete won a State Championship.
    In the 3200m, sophomores Luke Malone and Gavin Frick gained valuable experience, running in their first Indoor State Championship, much earlier than most athletes.
    Malone raced to the school's first 9 minute 3200m, running a 9:58. Frick quickly followed, running the second best time in school history, running a 10:02. Malone and Frick anticipate to be at the event again next season.
    On the girls side, freshman Morgan Hicks earned All Ohio honors, racing to a 3rd place finish in the 3200m.
    Hicks also helped the girls team run towards a State runner-up. The team made up of 2 freshman, a junior, and senior hope to improve upon their incredible season during the outdoor season.
    Freshman Maddie Davis placed 9th, missing out on All Ohio honors by one position. As a freshman, this performance was among the team's best. Davis hopes to qualify for the State Championship during the outdoor season.
    Senior Lexi Thorpe and sophomore Donna Semenishin also competed in the State Championship, in the 800m and High Jump, respectively.
    The team celebrated their successes together on Sunday night but will again continue to work towards their initial goal of competing at a high level during the outdoor season, which started on Monday, March 5.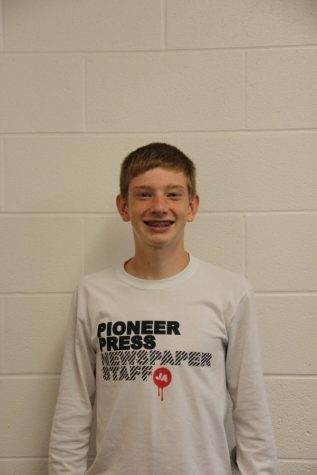 Gavin Frick, Editor in Chief
Gavin is a Junior at Jonathan Alder High School.  Gavin runs Cross Country and Track.
This will be Gavin's 3rd year with the newspaper.